Trading With Parabolic SAR on Binarium for Beginners



Parabolic SAR Strategy
The parabolic is an indicator allowing you to evaluate both price movements and the moment of their reversal. The full name of the indicator is the parabolic SAR, where the first word means the direction of the curve on the chart while SAR represents the abbreviation for "Stop and Reverse".
The indicator is among the most requested technical analysis tools. The parabolic SAR makes it possible to reduce the lag effect when reading the chart, provided there is a trend on the market.



Why Choose Parabolic SAR Indicator?
The parabolic SAR is similar to another popular indicator -— the moving average. However, the parabolic SAR is faster, which allows it to change its location against prices in response to a market trend. The parabolic SAR features numerous advantages such as:
it is simple to use;
the ability to track prices in real time;
the ability to track prices in real time;



How Is the Parabolic SAR Used in Trading on Binarium?
Trading with the parabolic SAR as a tool should be explained through an example. For a start, you should activate the indicator on the chart. In order to do so, in the Indicator section, find and choose SAR: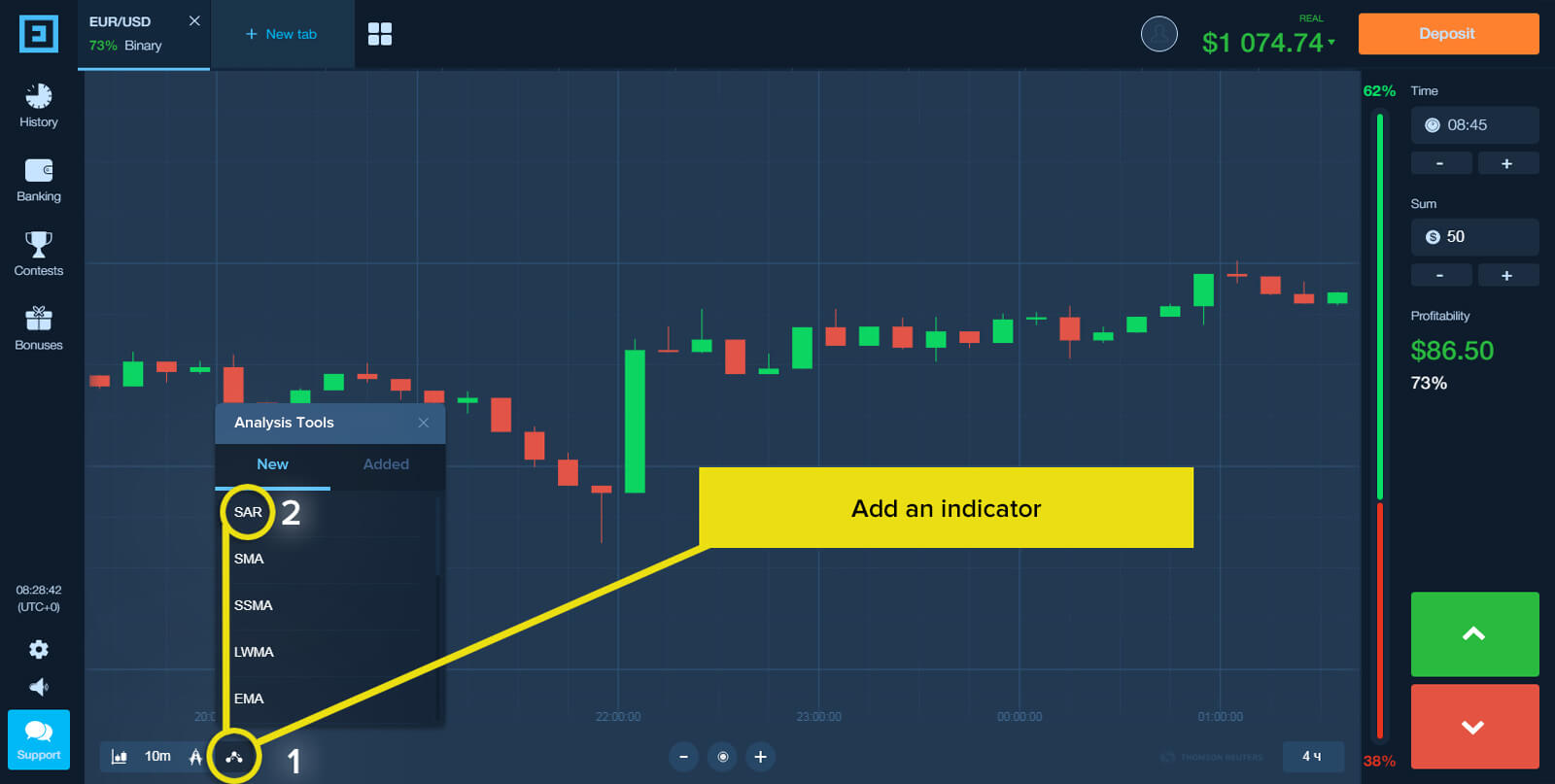 Once the indicator is activated, a dotted curve, the parabolic SAR, appears on the chart.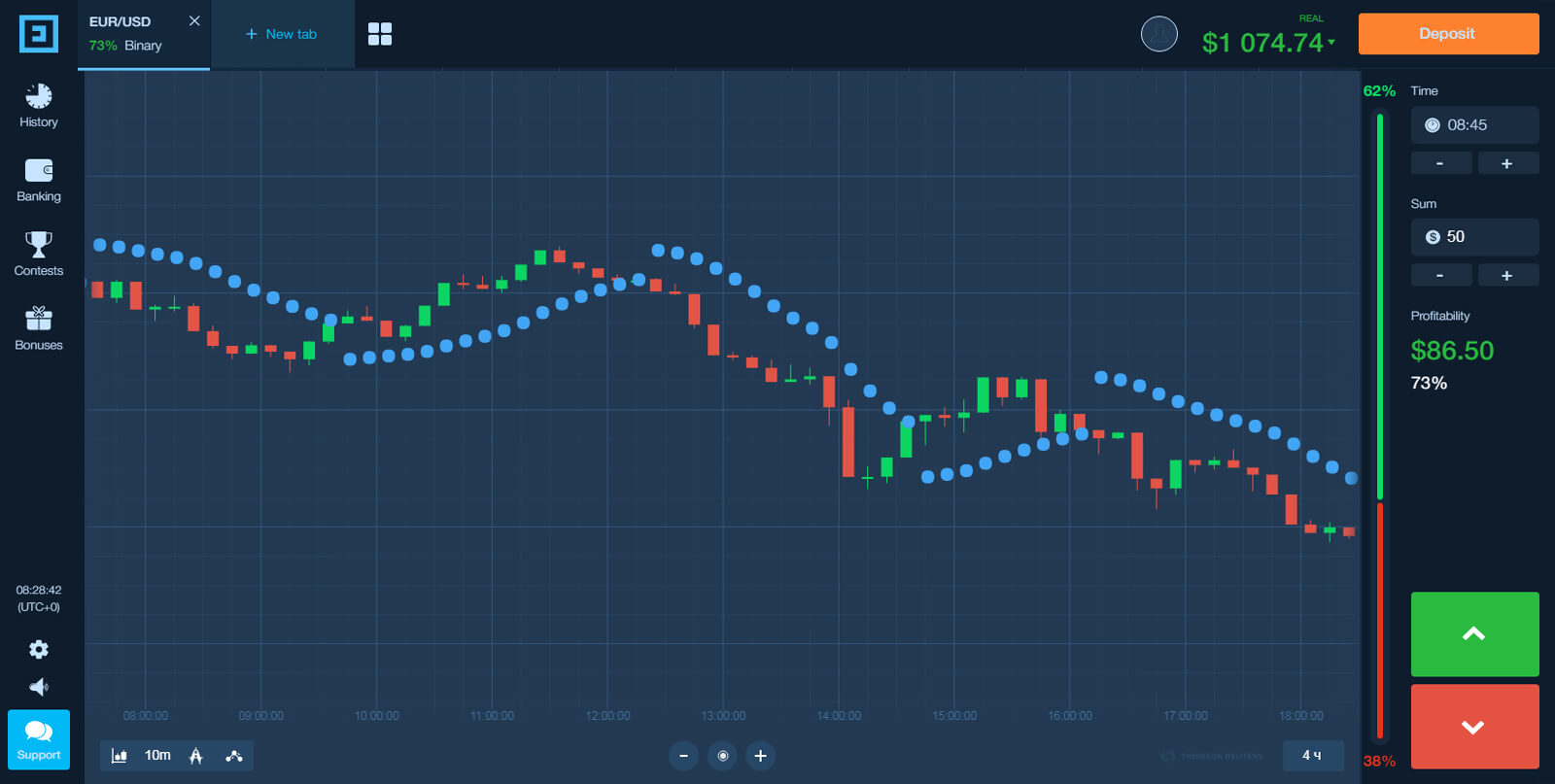 The indicator can be easily interpreted: the dotted curve placed below the price is deemed to indicate an upward direction, whereas the dotted curve placed above the price is considered to signify a downward direction.
One should open a position once the parabolic meets the price on the candlestick chart. The example below, with the dotted curve above the price, shows a downward trend. The dot below the price represents the change in the trend and is to be deemed as a signal to buy a call option.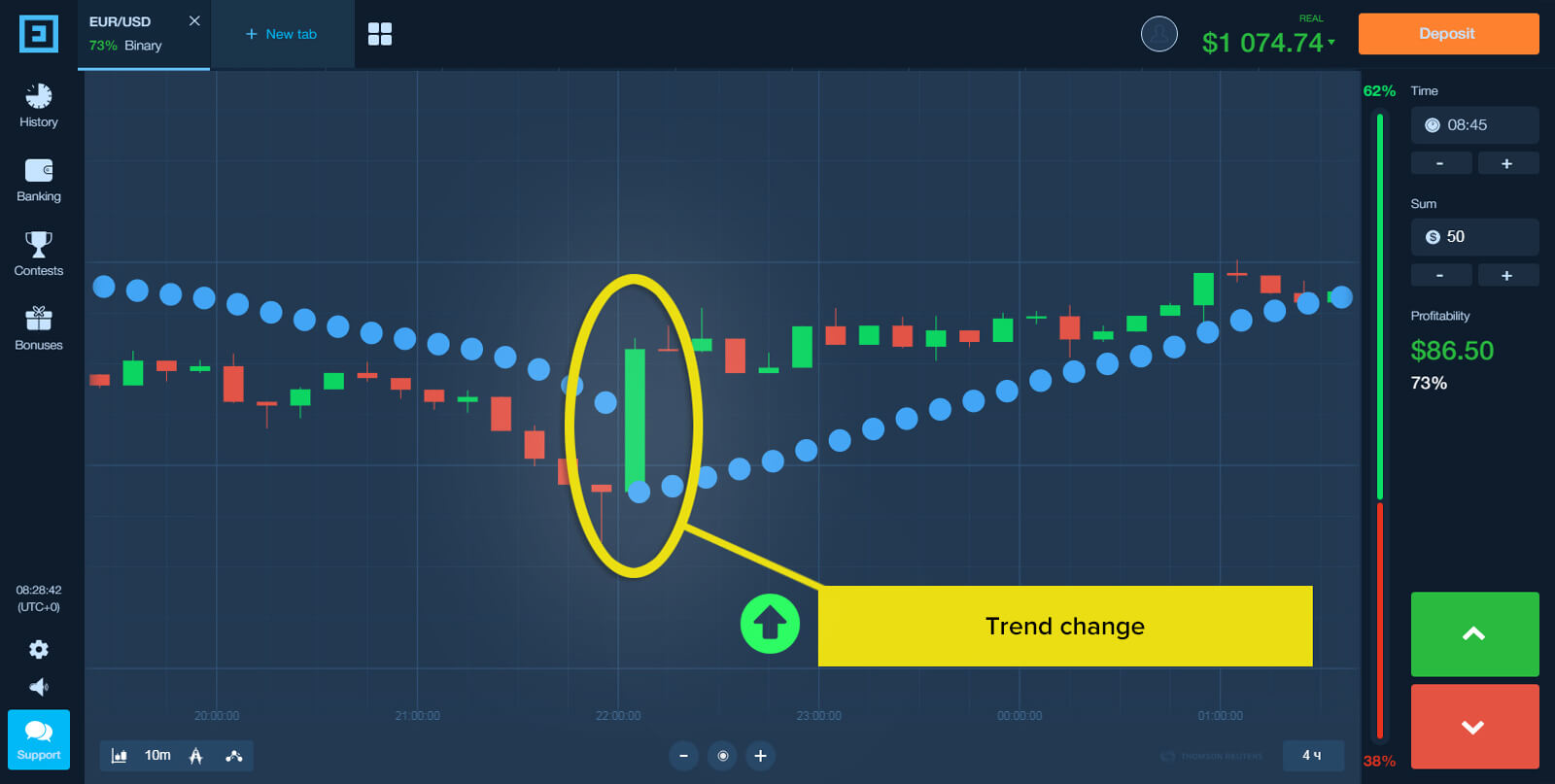 When using the parabolic SAR, one should ignore the price in a sideways trend.
Given such conditions, the indicator may lead to wrong signals. In order to prevent them, one should carefully examine whether the trend has been long-established on the market. Properly used, the parabolic SAR will very soon prove to be reliable.



Trading recomendations for Parabolic SAR
Expiration: 15-30 minutes
Investment: 2% от of your deposit